28 Jun 2019
Exclusive: Care Minister Caroline Dinenage tells care homes ''loneliness is everyone's business''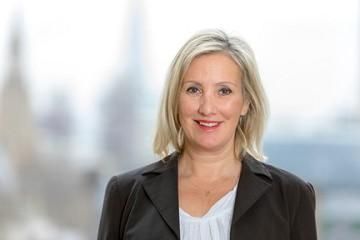 carehome.co.uk feature:
Article By: Angeline Albert
"Loneliness affects people in all walks of life but can have a significant impact on some of our most vulnerable citizens", writes Caroline Dinenage who shares her thoughts on what care homes can do to tackle loneliness, in an exclusive opinion piece for carehome.co.uk.
Care minister Caroline Dinenage writing for carehome.co,uk. Credit: Department of Health and Social Care.
"Older people and those living with dementia or disability are particularly susceptible.
"Recent research suggests loneliness costs the UK economy £1.8 billion a year, with an estimated 1.5 million people over the age of 50 now suffering from chronic loneliness.
"This makes them twice as likely to visit their GP, three times more likely to develop depression and almost twice as likely to be diagnosed with dementia.
"It's often seen as a modern affliction but it's also a problem we are becoming increasingly attuned to as a society, as the very existence of a Loneliness Awareness Week attests to.
"We now have the world's first Minister for Loneliness - my colleague Mims Davies - and last year the Government published the first ever Loneliness Strategy, outlining commitments to enhance people's links to community networks and sources of support.
"One of the headline commitments was around social prescribing, which has also been embraced by the NHS Long Term Plan as part of a move towards more person-centred care. Social prescribing will soon become an indispensable tool for GPs who will be supported by a new army of workers.
"By 2024 all GPs will be able to refer people experiencing loneliness to local community and voluntary services, from choirs to dance classes.
Frank care home conversations vital for lonely residents 'displaced' from loved ones
"Last week has also seen the launch of a new campaign, 'Let's Talk Loneliness', which aims to tackle the stigma around discussing feelings of loneliness.
"We should never be ashamed of experiencing these feelings but too many people worry that they will be judged in some way. These conversations are particularly important in places such as care homes where people may feel displaced from friends, family and familiar routines.
"Care homes looking to support the campaign can visit the campaign website at letstalkloneliness.co.uk, download a toolkit for social media and even consider hosting an event.
"With increasing evidence of the detrimental impact loneliness can have on people's health and wellbeing, it's essential that care homes encourage open discussion around loneliness and how to tackle it.
"For example, I was impressed by a project that has been rolled out across residential care homes in Leicestershire which engages residents in bread making sessions to tackle isolation and stimulate memories and conversation. I'm sure there's much more best practice going on across the country which I would be delighted to hear about.
"Loneliness is everyone's business and we can only tackle it by working together and having these conversations with our friends, family, neighbours and even - as a new BBC campaign suggests - the person sitting next to us on the bus."