27 Feb 2020
How can we support people with dementia using technology?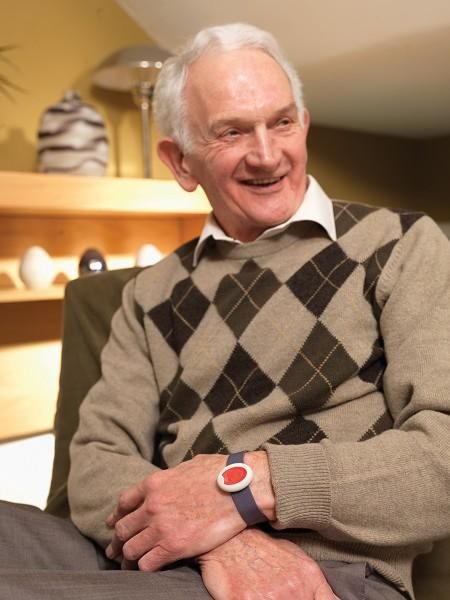 Gavin Bashar, UK Managing Director of market-leading provider of Connected Care and Health solutions Tunstall Healthcare, explains how technology such as telecare can help people with dementia and those who care for them in a way that promotes independence as well as managing risks.
In the UK, someone develops dementia every three minutes, and the Alzheimer's Society estimates that the number of people living alone with the condition will double to 240,000 in the next 20 years.1
This equates to around 225,000 people developing dementia each year, this is a huge figure and it therefore has never been as important to introduce measures into people's lives to protect their dignity and support their independence, as well as reducing interventions which are currently costing the UK economy £26.3bn a year2.
Technology is crucial in enabling the delivery of care at home, which means people living with dementia can remain in a familiar environment for a long as possible, including those living alone. It can also help to relieve the pressure on carers, improving their quality of life and enabling them to care for longer. As our social care and health systems continue to experience limited budgets and rising demand, it's becoming increasingly important that providers employ solutions which enable care to be delivered in more effective and person-centred ways.
Telecare systems can be tailored to the needs of the individual, helping to manage events such as falls, fires in the home, medication management and people leaving home and being unable to find their way back. They can be configured to ensure help is automatically provided in the event of an emergency, 24 hours day, from a keyholder, response service or the emergency services as appropriate. They can also enable live-in carers to carry out daily activities, or have uninterrupted sleep as they know they will be alerted in the event of an incident. The earlier technology is introduced, the easier it is to understand the eventual outcomes and how support can be given, especially at home, enabling greater patient-centred care.
Systems can also be used to support people with dementia living in care home environments, enabling carers to target care where and when it is needed most. It can also mean 'just in case' checks can be reduced, as emergencies such as falls will raise an automatic alert on the system, and can be responded to rapidly. Systems can also be configured to give residents easy access to their own rooms, but ensure they don't go into the rooms of other residents where this unwanted.
Of course technology should never be employed to replace human interaction, but it can play a key role as part of a person-centred approach to care and support.
For more information on how technology can help to support people with dementia, please visit www.tunstall.co.uk/dementia or email hello@tunstall.com
About Tunstall Healthcare
Tunstall has been at the forefront of technology innovation for the health, housing and social care markets for over 60 years. Its pioneering software, hardware and services enable new delivery models which can transform community-based health and social care, and enable people to live independently and with an improved quality of life.
Tunstall's Connected Care and Health solutions are underpinned by IP enabled platforms and infrastructure, supporting the innovative use of technology including IoT, SaaS and cellular communications. It offers an end-to-end solution, including training and consultancy, service and maintenance, and monitoring services which make more proactive and personalised models of care possible, and focus health and care teams where they are most required.
Tunstall works with social care providers, healthcare services, retirement living providers, and nursing and care organisations in 38 countries, improving the lives of millions of people, including those living with dementia, learning disabilities, physical disabilities and long-term health conditions.