01 Mar 2020
How to make dining more dignified for people living with Dementia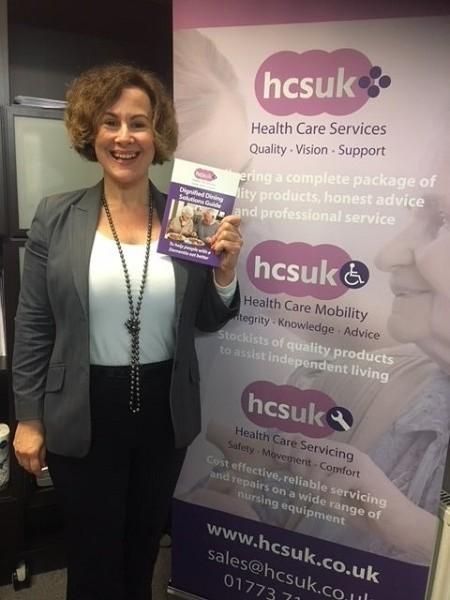 Utilising my professional and personal experience, I've authored the 'Dignified Dining Solutions Guide' aimed at helping people with a dementia to achieve the most dignified, independent and delicious dining experience possible.
Dining rooms can cause anxiety and confusion for people living with a dementia. Highly visible contrasting colour pictorial signage and menu boards help prompt recognition of meal times, are an effective way to communicate meal options and are actively encouraged by CQC.
Often people with a dementia refuse to eat what they cannot recognise.
The use of food moulds and accessories helps recreate the original shapes of pureed foods and also offer the following benefits:
• Improved meal presentation and nutrition
• Increased dignity at mealtimes
• Greater meal variety, reduced preparation time/wastage
Dementia diminishes peoples' colour definition. White crockery doesn't provide sufficient tonal contrast to ensure staple foods can be seen. Some white foods are the most calorific part of a main meal: potatoes, pasta, rice, fish, chicken and pork.
Brightly coloured crockery makes food and drink more visible and appetising. Whilst one colour doesn't work for everyone, a tonal contrast of 20-30% is sufficient.
Adaptive cutlery, smaller food pieces, prompts to remind them to open their mouths and finger foods can help people with a dementia maintain independence when eating.
TEN TOP TIPS
1. Ensure that the dining area is adequately lit, particularly in the evenings
2. Make eating social - eat together
3. Avoid noisy, distracting environments – the dining room should be free from loud music, television and vacuum cleaners
4. Familiar sounds/smells of cooking help stimulate the senses: tinkling of cutlery and rattling of pots and pans
5. Let people choose where they would like to sit and eat
6. Sit with them at eye level, either in front of them or to the side
7. Use plain tablecloths, lay the table with placemats and cutlery
8. Food should be visually appealing, incorporating different coloured foods and presenting it in an appetising way
9. Make the effort to maintain peoples' independence with eating and drinking, providing suitable aids; i.e. adapted cutlery and crockery, non-slip mates and keep warm plates
10. Use colour to support the person – the colours of the food plate and table should be different. Avoid patterned plates
For more information about Hcsuk and to request your FREE copy of Jo's Dignified Dining Solutions Guide visit www.hcsuk.co.uk, email sales@hcsuk.co.uk or call 01773 713713
Hcsuk will also be exhibiting at the Dementia, Care & Nursing Home Expo on the 17th & 18th March in Birmingham's NEC. Pop by stand D476 and say hello!